Reflections on the Border: Part 2
In February, staff members from NMILC visited the Mexico-US border, touring a youth "shelter", local processing center, and segments of the wall. This is the second of a three-part series sharing their thoughts about the experience; click here to read part 1. The views expressed herein are those of individual NMILC staff members, and may not necessarily reflect the views of the organization as a whole.
With the passage of President Trump's 100th day in office, there has been a great deal of reflection on what has and hasn't been accomplished in the first 100 days. Thus far, one of Trump's most famous campaign promises, the building of a wall along the US-Mexico border, seems to remain a top priority in office. With all of the discussion, excitement, and anxiety surrounding the building of the wall, it can be easy to forget that the US already has heavily policed borders, including segments with a "great wall". This past winter some of the NMILC staff embarked on a tour with U.S Customs and Border Protection (CBP) in El Paso to see part of the wall up close and to learn more about how our border is policed.
Our tour began outside of the immigration courthouse in El Paso in what can only be described as a luxury minivan, complete with a flat screen TV. There we were introduced to our two photogenic Border Patrol agents charged with the duty of giving tours to 'stakeholders' such as ourselves. As we hurtled through the streets of El Paso, they began a sort-of sales pitch/CBP advertisement complete with powerpoint slides and pie charts. We were given a glamorous rundown of the different border patrol groups, which included descriptions of various elite squads of border patrol agents with special 'tracking techniques' (read: drones) that enable them to hit their 'targets' (read:migrants).
Eventually we arrived at the wall itself. Even though I've seen images in the news of the border wall, it still was startling to see in person. The wall is tall and barbed, like a long snake cutting through the Chihuahuan desert. Interestingly, the land was not originally federal land, but land owned by a waste disposal company and paid for by the US government. Needless to say, the obligatory "on the taxpayer's dime!" joke made by one of our staff members did not go over well. After giving us some explanation of what we were looking at, our tour-agents pointed to a group of houses a mile or so away. This, they claimed, was the crucial point before which to catch migrants. Once they pass those homes, they are able to 'blend in' with the rest of El Paso.
The final part of our tour was the El Paso Processing Center, where immigrants caught crossing without status are given Credible Fear Interviews to determine if they are even eligibl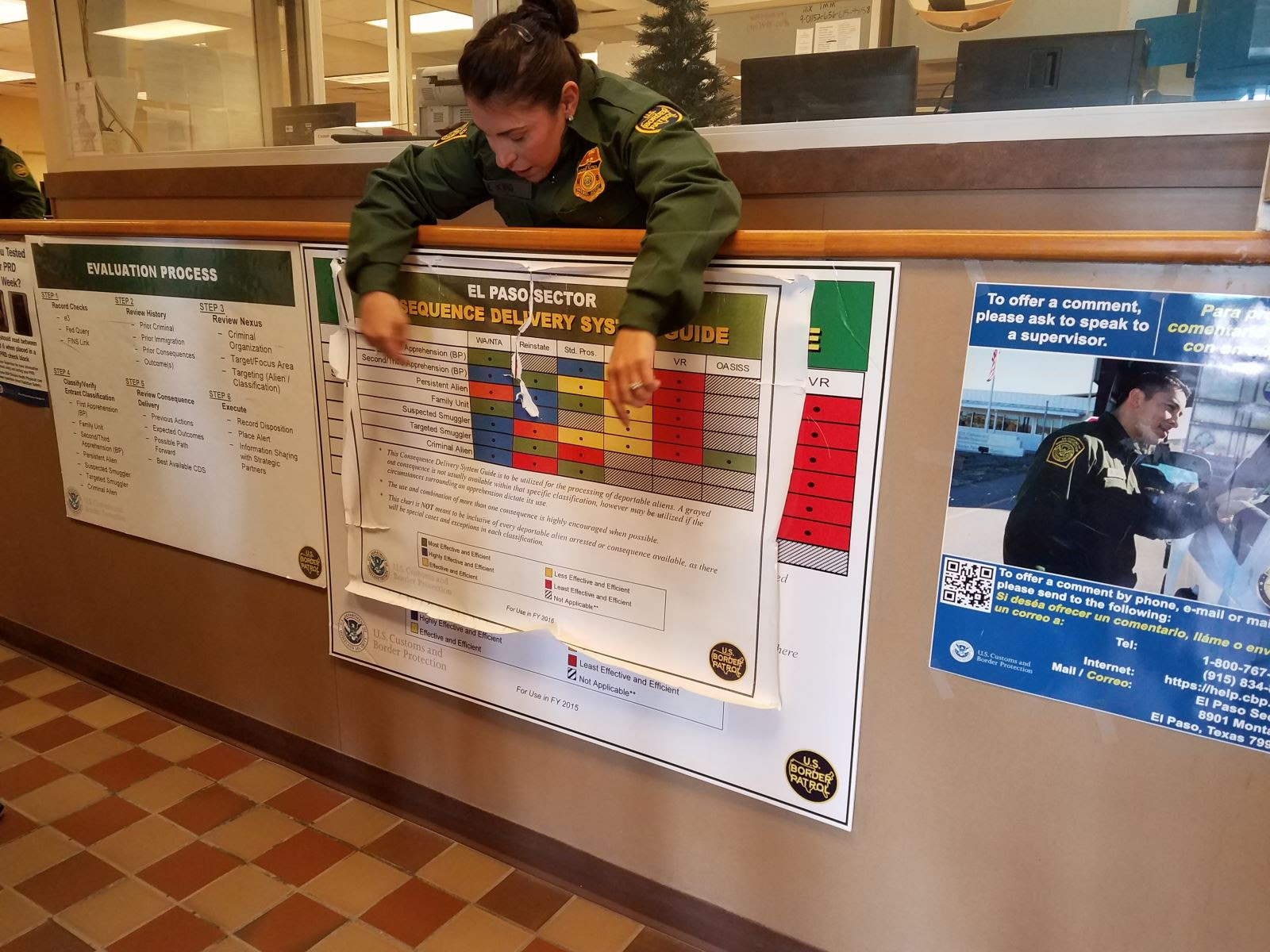 e to apply for asylum. In this isolated facility, the conversations between our immigration attorneys and the border patrol agents went from fake polite to something a little more heated. Deportation rates were at an all-time high under the Obama administration, but still the agents claimed it had been too easy for migrants to cross. They further insisted that those days were over–there would be no more Mr. Nice Guy on the border. To me, the most troubling part about this encounter was the lack of knowledge about even rudimentary aspects of immigration law on the part of the CBP agents, who are the front lines of enforcing this law.
Much like the political rhetoric that often characterizes discussions of building a wall on the US-Mexico border, the language used by the Border Patrol agents sought to dehumanize migrants by reducing them to 'targets' or statistics. This sentiment seems to be widely echoed by the media and members of our government. But the truth is that migration is a human issue, and behind each statistic is a human story. Rather than building a wall to "protect" borderlands that are already heavily policed, we need to fight for a more just immigration system that recognizes that families should be kept together and those who are fleeing violence from their home countries have a refuge in the U.S. We need to work to reframe the perception of immigrants in this country and decriminalize the actions they take to protect themselves and their families.
Zoe Bowman                                                                                                
Legal Assistant
NMILC recently started working on a project to provide a legal orientation program at a detention facility in Cibola County. Many of the people currently detained in this facility have passed their Credible Fear Interview and are seeking asylum, but without access to attorneys are at a grave disadvantage when advocating for their case. Your support will make this project possible; please consider sponsoring a trip to the facility today by making a donation here.